Key facts:
Justin Sun, founder of Tron, was one of the victims of the Aave blockade.

The blocking was done in an automated way from the source code of the platform.
Users of different applications recognized as "decentralized" had access to their funds blocked after receiving 0.1 ETH from an anonymous sender who used Tornado Cash.
The founder of the Tron network, Justin Sun, reported on Saturday that the Aave platform had blocked access to his account. The reason presented to you by the website is that your Ethereum address "is associated with one or more blocked activities".
Sun, in the tweet where he announced the incident with his account, commented that he had previously received 0.1 ETH from an anonymous account through the Tornado Cash cryptocurrency mixer.
CriptoNoticias recently reported that, as well as the founder of Tron, many personalities from the cryptocurrency ecosystem and show business in general were the subject of an anonymous campaign. This one was about send 0.1 ETH to the Ethereum addresses of important people in society by means of Tornado Cash.
In this way, these addresses were "tainted" and cannot be used in applications or platforms that comply with the requirements of the US authorities.
On August 8, the US government decided to sanction the Ethereum cryptocurrency mixing platform, Tornado Cash. The authorities allege that this platform has served to launder more than USD 7 billion and has links to a group of North Korean hackers.
The root of blocking to accounts
The blocking of accounts in Aave was not done under a personalized analysis but automatically. The fact of being an open source platform allowed users to corroborate that it was a mechanism installed in the programming of the website.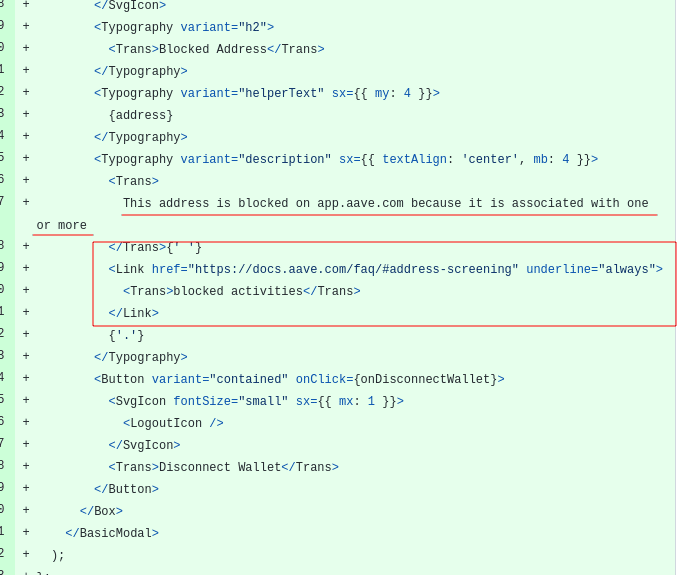 The head of the developer relations department at Aave, MarcZeller, inform hours after they had removed the locking feature from the front-end of the platform.
The reason for this decision, according to Zeller himself, was that it ended up being a response "much more severe than they expected." Therefore, users of this platform can now access their account regardless of whether they have received transactions from Tornado Cash or not.
It is important to note that Zeller clarified that they removed the blockade because of how severe it was. However, he did not say that it was not among the company's intentions to take measures against users "contaminated" by transactions from Tornado Cash.
In addition to Aave, other Ethereum platforms, applications and clients, such as Infura, Alchemy, GitHub, Circle and dYdX also took steps to comply with US government orders and block or restrict access to users whose accounts are linked to Tornado Cash. Unfortunately, these procedures destroy the "decentralization" flag that some wave when presenting their projects.