While the United States managed to reduce inflation slightly last month, in other countries this problem remains rampant. At the same time, many of these territories have suffered a sharp devaluation of their national currencies. Argentina, Peru and Guatemala are some of the places where the protests of the inhabitants are stoked by this situation.
Inflation in Argentina increased 46.2% in 2022, which means an increase of 71% in twelve months, its maximum in 30 years, according to the report from the INDEC published Aug. This directly affects the pockets of Argentines who, if they did not receive an equal increase in their salary in this period, lost purchasing power.
Likewise, the economic difficulties generated by inflation are accentuated with the devaluation of the country's national currency. Buying dollars to shelter savings is becoming more and more expensive for Argentines, as it happens with stablecoins. In 2022 the price of the dollar rose by 62.96% in the informal market, under registry from the Studiodelamo.
Despite this, Argentines continue to buy the US currency and stablecoins to prevent their savings from devaluing. Even the adoption of cryptocurrencies increased in 2022 in Argentina due to the enthusiasm for the ecosystem and the limitation to buy and transfer dollars officially. This has been pointed out by some exchanges in the country to Criptonews.
Protests and interest in cryptocurrencies are also growing in countries such as Peru and Guatemala, although they are not among the most economically affected in Latin America. Its inflation in the last twelve months increased 8.74% and 8.36% respectively, their highs since 2008. Meanwhile, the value of their currencies against the dollar decreased by 0.86% and 0.12%, according to data from TheGlobalEconomy.
These are the Latin American countries most affected by inflation and devaluation
The explorer indicates that the Latin American countries with the highest devaluation of their currency against the dollar are Argentina, Chile and Haiti. The rest has seen a smaller depreciation than the one that the euro zone had with its fall of 16% in the last twelve months until it was quoted at parity with the US currency.
As for the countries that experience the highest inflation in the continent, Venezuela stands out topping the podium with 167%, according to TradingEconomics. Although its impact has not been so hard, because the figure is lower than previous years. In the list, it is followed by Argentina, Suriname, Haiti, Cuba and Chile.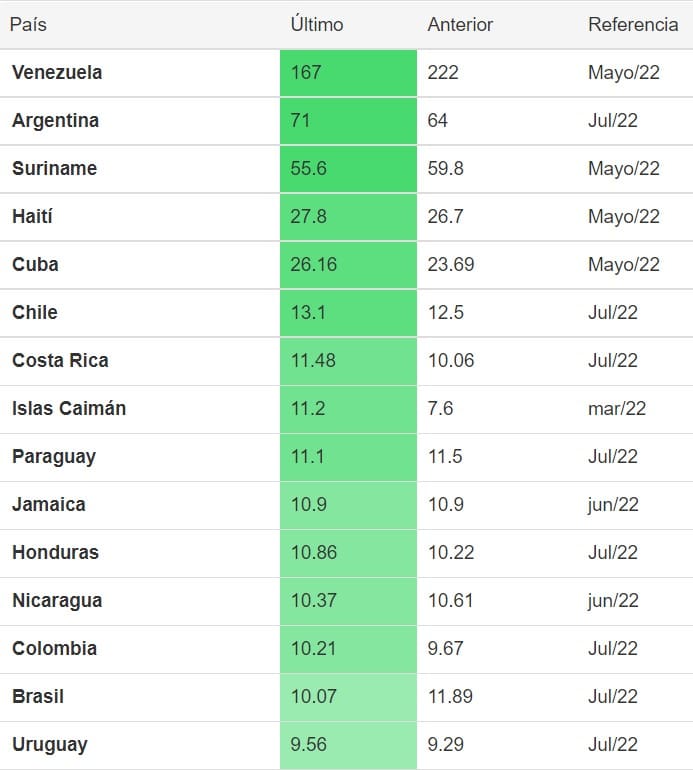 As seen in the table, the rest of Latin American countries do not have inflation that is as far away from other parts of the world as the euro zone and the United States. These two places register an increase in the last twelve months of 8.9% and 8.5%.