Among the bitcoin metrics consulted by traders to optimize their investment strategy, several stand out that support an upward trajectory in recent days. These include the 50-day moving average, the open interest of bitcoin futures and an attractive risk-benefit ratio for long-term holders.
The open interest of bitcoin futures comprises the number of open contracts, pending settlement. At the time of writing, there is a total of 592,000 BTC of open interest, which is equivalent to USD 14.389 million. Compared to April of this year, BTC's open interest has grown by 69%.
Despite the increase in open interest in futures, the figure is lower than the USD 18 billion in open contracts in January and April of this year. However, the registered growth implies that the current market conditions are perceived as favorable to a price increase by some traders, and they assume the risk of investing.
For traders looking for bitcoin price trends, the fact that the price exceeded the 50-day moving average on July 27, could be associated with an accentuation of the bullish phase.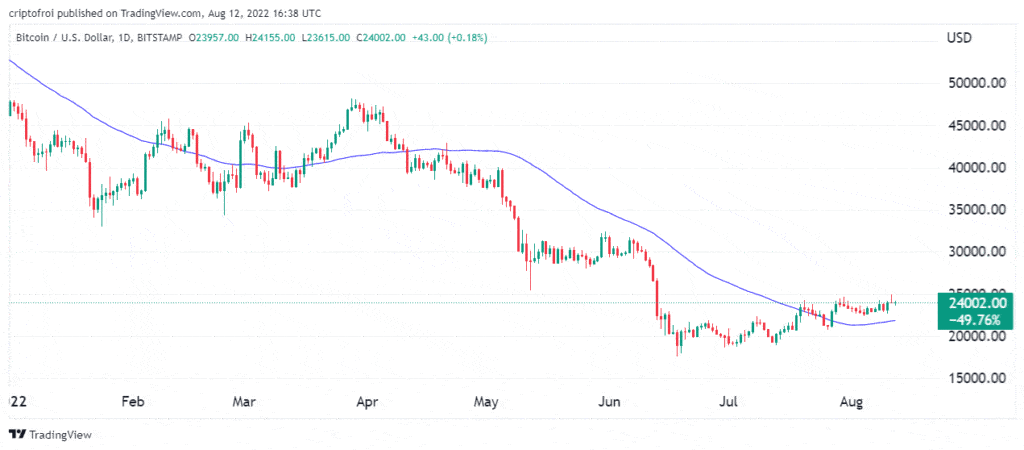 In the previous graph it can be seen that the price exceeded the 50-day average, on March 16, a strong upward trend was registered that allowed to exceed USD 48,000 at the end of that month.
Another of the indicators that could be auspicious for the price is the so-called Reserve Risk, which allows to visualize the confidence among long-term investors, relative to the price of bitcoin at any given time.
If the confidence level is low, and the bitcoin price is perceived as high, then the risk-reward ratio is not attractive (red zone on the chart). If the confidence level is high and the price is low, then the Risk Reserve curve enters the green zone, in which appreciable returns have occurred in the past.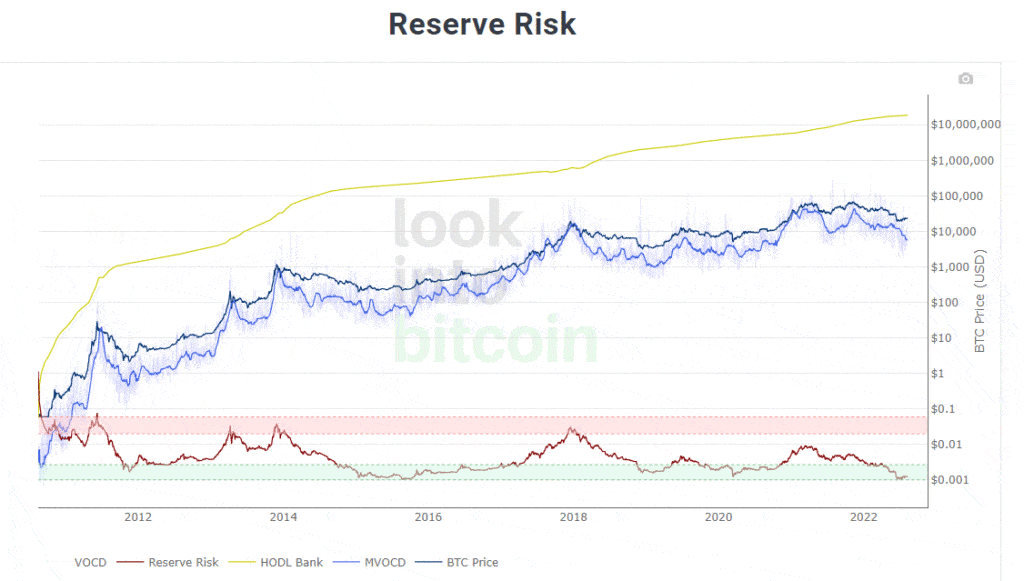 By surpassing USD 24,000, a level that it did not reach two months ago, the bitcoin price has had favorable factors such as a renewal of institutional investment interest.
This was reflected in the initiatives of the important investment manager Blackrock, as well as the positive response of its price after the last rate increase by the Fed. At the time of writing this article the price of bitcoin is USD 24,222, according to the Crypto News price index.