Several companies engaged in Bitcoin mining saw their stock price on the stock exchange double over the past 30 days. Meanwhile, the cryptocurrency market has maintained relatively positive figures, but far from the performance shown by industrial miners.
Among the large Bitcoin miners, the champion is Marathon Digital Holdings, Inc. In the last four weeks, the shares of this company increased their price by 136% by going from USD 7.76 to USD 18.24 at the close of the stock market this Friday, August 12. Next on the top is Core Scientific, Inc. The price of its shares rose from USD 1.53 to USD 3.36 per unit, for an increase of 122%.
Another of the big Bitcoin mining companies that doubled in value is Riot Blockchain, Inc., following a 102% increase. Riot shares rose from $4.93 to $9.93 in a matter of a month.
The cryptocurrency market has also shown positive figures the last few days. Bitcoin, which is the leading currency by its market capitalization, went from $19,600 to $24,170 in the last 30 days. This implies an increase of 25% for the coin created by Satoshi Nakamoto.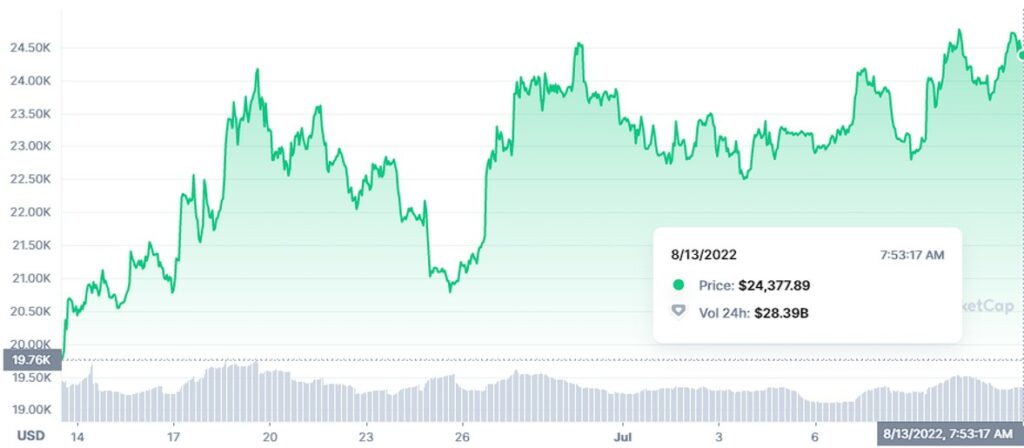 Despite this being a significant rise on the part of Bitcoin compared to its price a month ago, the contrast with the performance of the shares of mining companies is very pronounced.
Scenarios like this have been seen before, in the fact that the cryptocurrency market and the shares of Bitcoin mining companies rise or fall with a certain degree of parallelism. CriptoNoticias reported in mid-July that the shares of companies such as Marathon, Riot and Core Scientific rose between 8% and 36% in a matter of days. In those days, Bitcoin was again trying to break the resistance of $22,000 per unit.
The ratio of the share price of mining companies to that of bitcoin in the cryptocurrency market is seen not only in green figures, but also in red ones. Days before the mid-July hike that was just referenced, there was a slight drop in BTC on the market that dragged the big Bitcoin miners on the stock exchange with it.
Back then, Bitcoin was down 6% over the weekend. This caused the shares of companies such as Hut 8, Riot and Marathon will start the following week with drops ranging from 10% to 15%.