After 3 months, Ethereum (ETH) is again flirting with the $2,000 mark, after touching them momentarily in the early hours of this Sunday. The motivation behind this bull run would be the publication of the approximate date of the merger ("The Merge").
Despite the optimistic mood in the community, the investment whales seem to be taking no position that the price will continue to rise.
After the possible date of the merger was known on August 10 as reported by Criptonews, ETH has marked 4 green candles on the daily price chart.
However, something interesting within this chart is that the volume has been quite reduced compared to previous days. What it can show that large capitals are not moving with the rise in this price.
This scenario has raised warnings in some analysts, as is the case of Michael Nderitu, who tries to estimating the reason for this movement, and of the whale capital that has not been mobilized.
FOMO and Ethereum price momentum
In his analysis, Nderitu it determines that the Ethereum futures market, both short and long positions have been liquidated.
While it shows that the bets of a strong pullback in the price are reduced, they could also indicate that there is little expectation, on the part of whales, that the price of ETH will continue to rise, the current price being its take profit (take profit).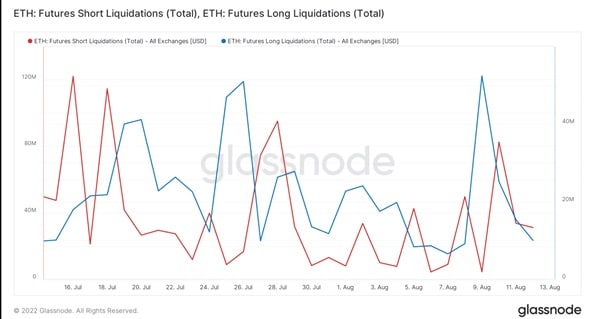 Given this behavior of whales, Nderitu analyzes that what is currently driving the price of ETH is FOMO or fear of being left out. In this case the FOMO is driven by the closeness of the date of the merger.
Also, another point that may be driving this FOMO, is the interest of forking the Ethereum chain. Those who own ETH at the time of the merger will be able to have cryptocurrencies on the new proof-of-stake network (Ethereum 2.0) and on the old proof-of-work network. Even some exchanges they have already shown support that they will assign to each user the corresponding assets to Ethereum forks, as is the case with Poloniex.
Nderitu concludes that, in this type of scenario, one should be "cautious" because there may be a significant price retracement since the increase is not maintained by the low capital that is mobilized, since they are small investors, motivated by FOMO who decide to enter the market.