The post Crypto.com Breaks The Patience For Withdrawing Funds! How Will This Impact CRO Price? appeared first on Coinpedia Fintech News
While the crypto market has just begun flashing green after getting severely impacted by the FTX wipeout, concerns regarding withdrawing funds from Singapore-based crypto exchange firm Crypto.com are peaking. According to some users on the platform, crypto withdrawals via bank transfers are taking longer than expected, fading the trust of users from Crypto.com. After the sudden collapse of popular crypto exchange FTX, the crypto community worries about securely storing funds in Crypto.com as users believe that it can be the next target of bankruptcy. 
Is Crypto.com Next After FTX's Demise?
This year has brought a nightmare for crypto investors as multiple hacks, exploits, and the downfall of a popular crypto exchange FTX have darkened the future road of web3. Recently, several users of Crypto.com complained about the excessive time that it is taking to withdraw crypto funds from the platform to a bank account. 
A well-known crypto analyst and trader, MartiniGuyYt, raised a concern regarding a withdrawal of 2 BTC from Crypto.com that has been pending for 24 hours. He further expressed his doubts about its normalcy as he hinted at a bankruptcy for Crypto.com. However, it is reported that a small amount of transactions are executing smoothly, whereas huge transactions are facing difficulties. 
After all, the CEO of Crypto.com, kris marszalek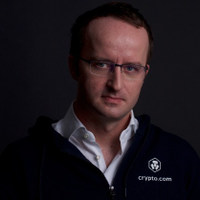 kris marszalek
ceo at crypto.com
Kris Marszalek is an enthusiastic crypto entrepreneur and an active and true believer. Being a professional is the Chief Executive Officer at Crypto.com, built on a substantial establishment of security, privacy, and compliance and is the first cryptocurrency company across the world to have ISO/IEC, CCSS Level 3, PCI level 1 compliance, and autonomously assessed at Tier 4, the highest level for both NIST Cybersecurity and Privacy Frameworks. He associates and encourages startups to enhance their business and meet their aims.He along with his team of Crypto.com collaborated with Pay and Shopify, offering millions of merchants to accept crypto. He believes one of their core values at Crypto.com is to Remain Humble which means they don't seek the limelight, always try to take the high road, and do the right thing. He always tends to ignore the noise, and prove people wrong with actions, not words.He is extremely experienced with 18+ years of experience, he previously, served in numerous respected and well-established organizations including Starline Polska Sp. z o.o., an award-winning Consumer Electronics design studio and manufacturing business as Co-founder & Senior Vice President, Co-founder & CEO at YIYI Hong Kong Limited, and BEECRAZY, one of the leading e-commerce business in Hong Kong, and CEO at Ensogo which was listed on Australian Security Exchange.He acquires a deep knowledge of innumerable skillfulness including Business Development, Business Strategy, E-commerce, Online Advertising, Mobile application, Digital strategy, Email Marketing, and Strategic Partnerships. He experienced growth and stability with Crypto.com which was encouraged by the launch of Defi Swap and he never stopped promotional campaigns. The platform announced imperiously that it has received provisional approval for a virtual asset MVP License from the Dubai Virtual Asset Regulatory Authority. At present, it serves over 10 million customers with the world's quickest growing crypto application.

EntrepreneurChief Executive Officer




Followers : 0


, clarified all the concerns through a YouTube live stream today as he mentioned that withdrawals were working correctly and would continue to serve users. Moreover, the CEO clarified their connections with the bankrupt crypto firm FTX as Crypto.com had less exposure (worth $10 million) to FTX, and they have a solid balance sheet too. 
CRO To Witness More Price Dips
In the last week, the FTT token wiped billions of dollars from the crypto market, and its impact now seems to spread through other cryptocurrencies as Crypto.com's native token, Cronos (CRO), witnesses massive withdrawals in the last 24 hours. 
Looking at the daily price chart, Cronos has made a long bearish candle, dropping more than 36% in the last 24 hours. CRO has broken its 'W' pattern, taking it to trade below the fundamental support level of $0.08 with a predicted more bearish in the next few hours.
The RSI-14 indicator trend line has dropped from an overbought region of 65 to an overselling region of 32. The current movement from RSI indicates increased selling pressure, which may soon lead to a sharp decline in the price chart.
Moreover, the MACD line has also dived to the bottom region as it is trading in negative territory and acting as a catalyst in bringing CRO to the lows. The SMA-14 is falling with a steep ratio to EMA-20 and EMA-50, which may soon turn portfolios red.
The Bollinger bands are also declining according to the negative market sentiments. The Bollinger band's lower limit is at $0.069, where CRO is currently trading. If CRO breaks this support level, it may initiate huge selling pressure and trade near the next support level of $0.0522. 
However, from its current price level, CRO can turn bullish as Crypto.com assures investors about its safety and stability. If CRO makes a breakout above its Bollinger band's upper limit at $0.087, it can soon head toward its EMA-100 resistance level of $0.1190.