The post Top Altcoins To Watch Next Week: BNB, XRP, ADA Price May Explode Soon appeared first on Coinpedia Fintech News
In a week marked by dramatic shifts in the crypto landscape, the market witnessed a rollercoaster of surges and plunges across leading digital assets. These fluctuations have shaped market sentiment and left investors on edge. Currently, the entire crypto market is awash in a sea of red, with expectations for future movement remaining uncertain. However, as Bitcoin price has made a sharp dip from $30K, it brings hope of a possible altcoin season in the upcoming week. Though several altcoins have already posted massive gains recently, traders are now waiting for the next altcoins to explode. 
These Altcoins May Take Charge Soon
The halt in the rise of Bitcoin's (BTC) dominance rate – which refers to its share of the overall cryptocurrency market – suggests the possibility of altcoins outperforming in the near future. Investors have recently switched their focus to leading altcoins as Bitcoin's sudden price dip failed to fulfil bullish goals, resulting in a surge in altcoin demand. 
XRP Price Analysis
Recently bulls tried to drive the XRP price above EMA-20 resistance, but bears made significant selling pressure, creating a resistance near $0.473. On the hourly chart, XRP's price experienced a deceptive breakout from the local support level at $0.4412. Traders are now intently monitoring the bar closure, as its proximity to the resistance could signal further growth toward the $0.48 zone.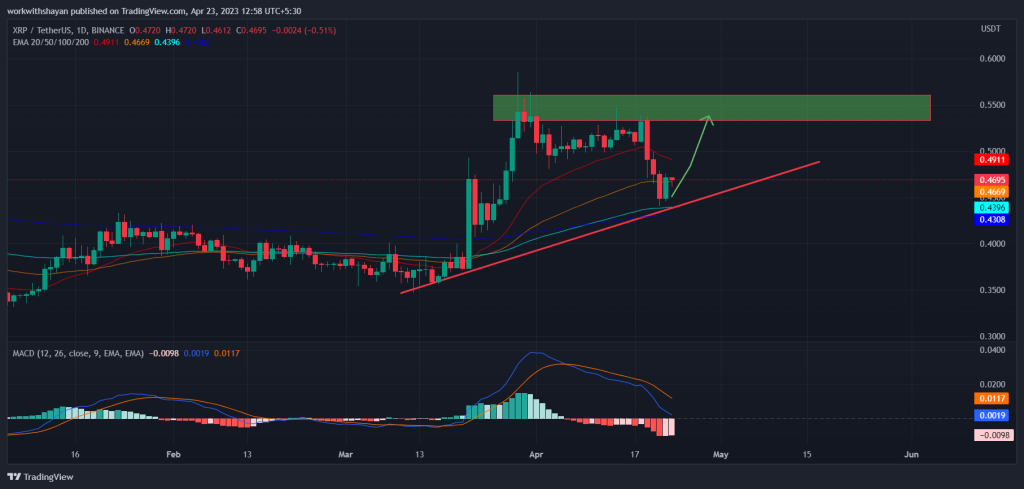 As of writing, XRP price trades at $0.47, climbing over 3.7% in the last 24 hours. After a sharp decline, bulls controlled the price chart, and XRP took support near EMA-100 at $0.44. XRP has climbed above its 23.6% Fib level since then, and a breakout above its critical level of $0.49 will send the altcoin to its initial bullish consolidation range of $0.51-$0.53. 
Binance Coin (BNB) Price Analysis
BNB experienced a notable rebound from the $318 support level near EMA-50, surging past the 20-day EMA. This indicates that the bulls are putting up a solid fight to prevent further declines and maintain the $318 threshold. The market will be closely watching whether their efforts successfully sustain the coin's value.
Currently, BNB's price trades at $330, with an uptick of over 2% from yesterday's price. BNB's price is facing a minor resistance to hold $330, and it can soon make a downward correction. However, if bulls break above the 23.6% Fib level, it can smoothly climb to its next resistance of $344. 
Cardano (ADA) Price Analysis
ADA price has made a steep decline recently after being triggered by the massive selloff in the crypto market. On April 20, the bears managed to drag Cardano's ADA back beneath the neckline of the inverse head and shoulders (H&S) pattern. However, the altcoin has recovered slightly and is trading at $0.39 with a gain of over 2%. 
After taking support at $0.37, ADA's price surged above its 38.6% Fib channel and is currently facing a minor resistance at EMA-200 on the daily price chart. If bulls send the ADA price above $0.4, a bullish rally toward $0.45 is expected next week.