Big news this morning that everyone's talking about…
---

The article on cheddar seems to be the source of this news as little has been confirmed by Facebook themselves save for the fact that they've hired a few members from Chainspace team.
All we know at this point, Facebook has roughly 40 employees led by top FB exec David Marcus in their new blockchain team. What they're working on or how it will be rolled out is still very much a mystery as the behemoth company is holding their cards very close to their chests.
In $FB's latest earnings report they announced 2.32 billion monthly active users, which if accurate, is a third of the world's population. So it makes sense that they're hiring the folks from Chainspace who are reportedly experts in smart contract platform scalability.
What might not be obvious is the unbelievable deal they're getting due to the bear market. The company was trying to raise less than $4 million when Zuck's offer came along. No doubt that during the bull market of 2017 valuation could have been ten times higher as we'll explore below.
@MatiGreenspan
eToro, Senior Market Analyst
Today's Highlights
Days to next Shutdown: 10 | Days to Brexit: 52
Google Flop or Not?
Crypto Industry Bottom Feeders
Please note: All data, figures & graphs are valid as of February 5th. All trading carries risk. Only risk capital you can afford to lose.
Traditional Markets
With volumes down across Asia, the European open hinges only on Japan and Australia… who seem to be going in opposite directions.
Nevertheless the European open has been fairly positive as investors remain optimistic in the face of extreme geopolitical tensions.
Gold has come off its highs. Crude Oil remains stable. While the US Dollar has bounced nicely off the lows.
Google Earnings Surprise
In a shocking earnings report yesterday, Google announced that they'd far surpassed all expectations. Just as we saw with FB's announcement last week, online advertisers are hitting their respective markets hard.
Alphabet shares however, managed to fall slightly in after hours. This seems to be because Google is now paying more out to their partner websites who host the ads.
This is very similar to what happened with Amazon who's strategy to invest rather than take profits is putting off investor appetite.
Earnings season continues to be the shining light of the stock market and there are more than 40 companies reporting today.
Bottom Feeders
As most of the world's greatest investors will tell you, the best time to make a great investment is when prices are low. We saw above how David Marcus seemingly got a great deal hiring the geniuses behind Chainspace, though the amounts are of course undisclosed.
As we've discussed, the bear market is a time when smaller businesses get tested but it's also a time for consolidation for the larger players. We've seen several projects close and downsize already with the latest among them being Canadian exchange Coinsquare.
Where some see trouble others see opportunity. Take for example, this excerpt from a letter I just received from Kraken exchange.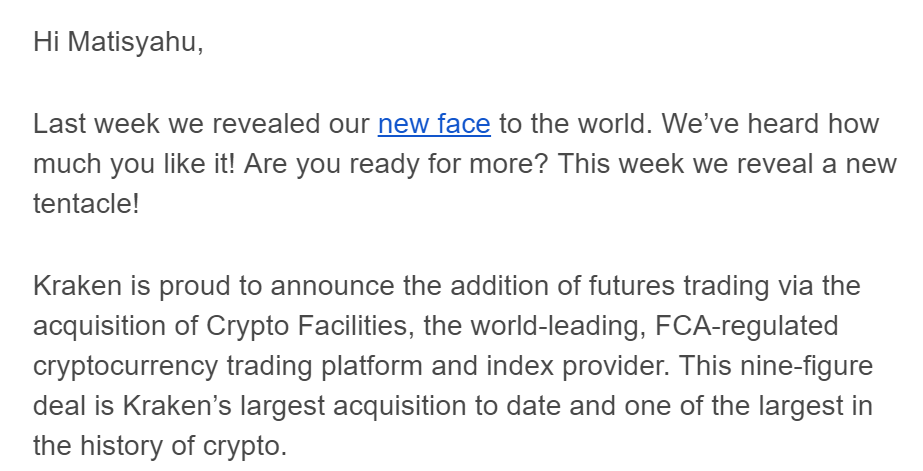 Another perfect example of discounted prices is Circle. The crypto startup has raised millions with the help of Goldman Sachs and others…

…but now their shares seeing a fire sale in the secondary market.
I guess it's just a sign of the times. In any traditional market, this is the sort of place where value investors step in. Certainly, this emerging technology is risky. However, in my opinion, for larger players looking to make long term investments in this space at advantageous valuations, now could be an excellent time.
As always, feel free to contact me directly with any questions, comments, or feedback. It's always a pleasure to receive.
Best regards,
Mati Greenspan
Senior Market Analyst
---
eToro (UK) Ltd is authorized and regulated by the Financial Conduct Authority. eToro (Europe) Ltd is authorized and regulated by the Cyprus Securities and Exchange Commission.
This is a marketing communication and should not be taken as investment advice, personal recommendation, or an offer of, or solicitation to buy or sell, any financial instruments. This material has been prepared without having regard to any particular investment objectives or financial situation and has not been prepared in accordance with the legal and regulatory requirements to promote independent research. Any references to past performance of a financial instrument, index or a packaged investment product are not, and should not be taken as, a reliable indicator of future results. eToro makes no representation and assumes no liability as to the accuracy or completeness of the content of this publication, which has been prepared to utilize publicly-available information.
eToro is a multi-asset platform which offers both investing in stocks and cryptoassets, as well as trading CFDs.
CFDs are complex instruments and come with a high risk of losing money rapidly due to leverage. 76% of retail investor accounts lose money when trading CFDs with this provider. You should consider whether you understand how CFDs work and whether you can afford to take the high risk of losing your money.
Cryptoassets are volatile instruments which can fluctuate widely in a very short timeframe and therefore are not appropriate for all investors. Other than via CFDs, trading cryptoassets is unregulated and therefore is not supervised by any EU regulatory framework. Your capital is at risk.
The post Bottom Feeders' Time to Shine appeared first on Bitcoinist.com.