Those who want to support the blockchain community must call out the sarcasm and half-truths of shallow reviews. Or should we even bother about this issue?
Journalistic freedom (or freedom of expression and its corollaries, press freedom and freedom of information) is both a right and a responsibility. If you throw a punch as a writer, you should be able to parry counterpunches. Everything should be in the spirit of getting to the bottom of things.
A press statement might be partly true, or only part of the whole truth, but with the use of some deceptive element, such as improper punctuation, innuendos or double meaning, the writer is able to deceive, evade, blame or misrepresent the truth. Critical supporters of the blockchain space must detect sarcasm and half-truths so as not to victimized by shallow reviews.
In the Blockchain space, we are NOT protagonists, we are collaborators. If there are differences in perception, we ask for due clarification. This is my perception of one review of #MetaHash where some sections of the code were sarcastically commented upon and the marketing strategy was dismissively criticized.  Here are my comments on Cronje's review:
This situation is an example of shallow reviews which highlight the

ignorance of the reviewer and the incapacity to understand fully, encouraging prejudgment without further proof.
Capacity to answer questions like "is the project capable to show the capacity which it promised" should be verified not by the code but by tests properly done and explained. This could be arranged if the journalist would allow the developers to show even once instructively.
Shallow reviews get media attention but what the space needs are neutral reviews for the blockchain to obtain massive support.
A lot of scam and badly developed projects are on the market, and misleading reviews don't help the audience to critically select what is real and what is not.
Without deep analysis and testing, good projects may just not be noticed and analyzed in the right way, and thus, lose its chance to be verified as viable products.
If any writer uses SENSATIONALISM while disregarding his public duty, take care. Here's a warning:"Naysayers, unfortunately, delay massive adoption of the blockchain by their ineptitude, lack of objectivity, inflexibility, ignorance, and incredulity." We in the blockchain space all lose by default.
For whose cause are you in? Weigh the evidence against consequences.
Although the "thoroughness" of Andre Cronje from Crypto Briefing concerning #Metahash seems fair, consider the disparaging remarks which cloud the real issue of clarifying matters for the growing community. If we want to demolish traditional monopolies and work together for distributing power to the greater population, what's the other agenda?
Can you detect the biased, dismissive, vague, and ill-defined manner by which the Cronje review started and concluded? Such journalistic style contravenes the tenets of the  Journalist's Creed which partly advocates:
"Advertising, news, and editorial columns should alike serve the best interests of readers; that a single standard of helpful truth and cleanness should prevail for all; that the supreme test of good journalism is the measure of its public service."
Here are sections of Cronje's "sarcastic" review: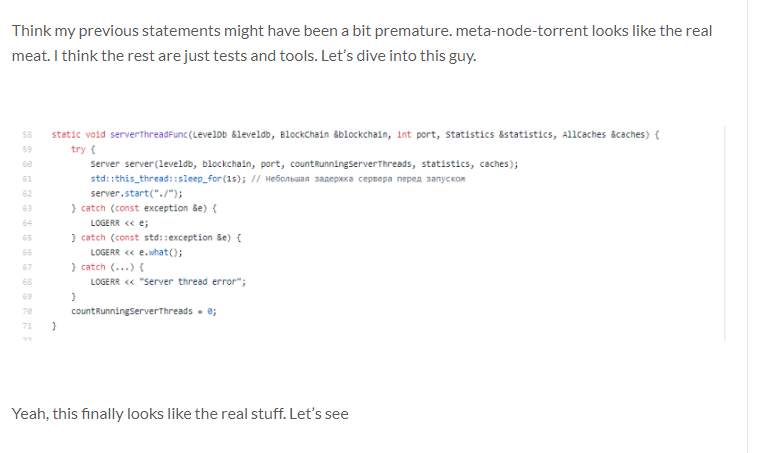 Major "points" raised in Mr. Cronje's "conclusion" read:
"Started rough but we ended with some fair code. No secret sauce there, and nothing really wow."

"Not seeing any of the massive claims they are making being validated by the code though."
"I really don't like the hype focus, makes them feel very scammy, and the promises are not validated."
"But there is some good code supporting this."
"Is it what is being promised on the website? No, definitely not."
#Metahash offered Andre Cronje to take part in the live stream with Gleb Nikitin, Tech Lead of #MetaHash. At the live stream, they will discuss the concerns Mr. Andre raised and any other questions he may have regarding #MetaHash and its code.
Here is the invite from #MetaHash, in Crypto Briefing telegram channel: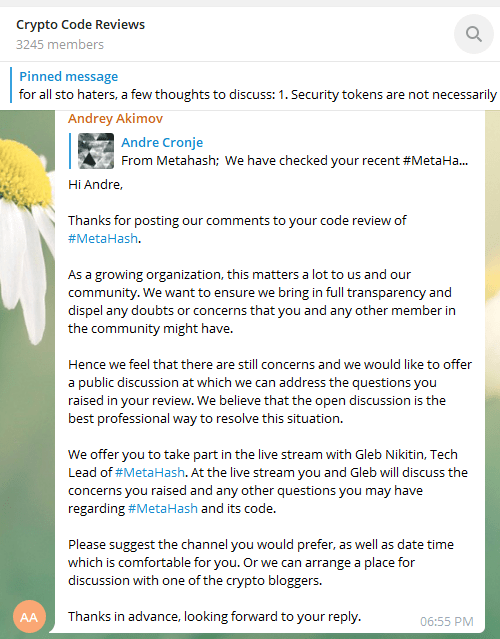 And Andre Cronje's response:

I wonder if this invite was too long to read, or was the code really read in full before commenting on it? I am no judge, I think an open discussion should be the field and the community should be the wise judge, not me, or any one person. So, is the challenge on @Andre Cronje?
#MetaHash replied to it after a day's time:

Another Social Media Fiasco?
Let's make the blockchain community a transparent one. Freedom of expression is a universal human right but misuse of this could get many in trouble. Putting down a project for the main reason that you could not understand some sections of it is irresponsible and implies lack of professionalism.
Cronje's continued avoidance to be "enlightened" by Gleb Nikitin in an open discussion can be interpreted in many ways:
Cronje is not really interested to know the answers to his queries.

Cronje has other motivations besides knowing the answers.

Cronje has been privately "satisfied" in his queries.
If clarification is the issue, then let's all get clarification done in a public forum, with all matters laid out for general education. Bottomline, the community expects Mr. Andre Cronje to accept the #Metahash invitation as the matter has repercussions in the blockchain space.
About the Author: Karnika E. Yashwant (KEY) is a multi-awarded CEO of a dozen brands. 
He has been advising blockchain projects since 2013.

Disclaimer: The statements, views and opinions expressed in this column are solely those
of the author and do not necessarily represent those of NewsBTC.


Image: Pixabay
The post Are You Bothered by Shallow Project Reviews? appeared first on NewsBTC.